Funeral Flowers
Flowers are a way to commemorate life's most significant celebrations. Funeral flowers continue to hold great importance to most funeral traditions and services today. Let FLOWER FACTORY PLUS help you choose the perfect tribute to express your feelings for the departed. We deliver to all funeral homes in Houston and the surrounding areas.
We work with all budgets for our funeral arrangements. Please contact us directly to discuss.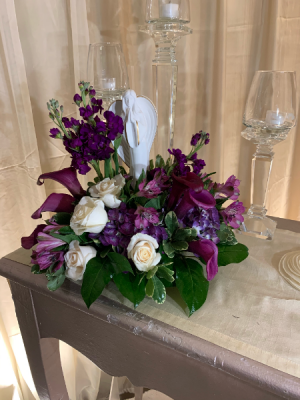 Angel Arrangement
Allow this beautiful arrangement with a ceramic angel figurine to usher your loved ones into Heaven.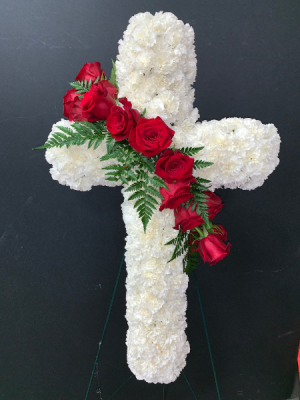 White Cross w/Rose Swag
Fresh Flowers
White Cross Covered in White Carnation w/ Red Rose swag.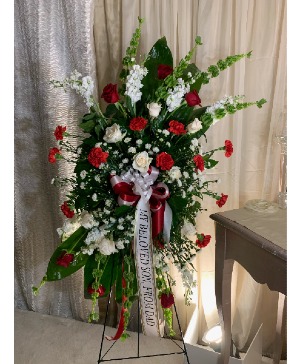 Red & White Standing Spray
A beautiful standing spray adorned with peaceful white roses and lovely red carnations with a customizable sash.
Funeral Homes in Our Delivery Area:

| Name | Address | Phone |
| --- | --- | --- |
| Acremation | 5090 Richmond Avenue, Suite 732 Houston, TX. 77056 | (713) 589-4180 |
| Aldine Funeral Chapel Llp | 9504 Airline Drive Houston, TX. 77037 | (281) 591-6055 |
| Alief-Sharpstown Funeral Home | 7730 Boone Rd Houston, TX. 77072 | (281) 561-6300 |
| Allen Dave Funeral Home | 2103 Cypress Landing Houston, TX. 77090 | (713) 480-2966 |
| American Heritage Funeral Home | 10710 Veterans Memorial Dr Houston, TX. 77038 | (281) 445-0050 |
| Asian Funeral Home | 8514 Tybor Dr Houston, TX. 77074 | (713) 771-9999 |
| Barkley Memorial Funeral Home | 1402 Cleburne St Houston, TX. 77004 | (713) 526-0091 |
| Barnes Funeral Home | 746 W 22nd St Houston, TX. 77008 | (713) 869-4529 |
| Boyd's Funeral Home | 7411 Wheatley St Houston, TX. 77088 | (281) 445-0971 |
| Bradshaw-Carter Memorial & Funeral Serices | 1734 West Alabama Street Houston, TX. 77098 | (713) 521-0066 |
| Brookside Funeral Home | 13401 Eastex Fwy Houston, TX. 77039 | (281) 449-6511 |
| Brookside Funeral Home - Champions | 3410 Fm 1960 Rd W Houston, TX. 77068 | (281) 397-0800 |
| Brookside Funeral Home Cypress Creek | 9149 Highway 6 N Houston, TX. 77095 | (281) 345-6061 |
| Carnes Funeral Home | 1417 Indiana Street Houston, TX. 77009 | (713) 574-2134 |
| Carter Funeral Home Inc | 13701 Corpus Christi St Houston, TX. 77015 | (713) 455-5100 |
| Cavazos Funeral Home And Crematory | 2000 Cypress Landing Rd Houston, TX. 77090 | (281) 895-8811 |
| Cavazos Funeral Home Inc | 2412 Little York Road Houston, TX. 77093 | (713) 884-8814 |
| Celebration Of Life Cremation & Funerals | 11121 South Post Oak Road Houston, TX. 77035 | (713) 721-3950 |
| Citizens-Turner Funeral Home | 7512 Lockwood Dr Houston, TX. 77016 | (713) 631-1393 |
| Clair Funeral Home | 2603 Southmore St. Houston, TX. 77004 | (713) 522-9030 |
| Claire Brothers Funeral Home | 7901 Hillcroft St. Houston, TX. 77081 | (713) 271-7250 |
| Clark Funeral Svc | 318 John Alber Rd Houston, TX. 77076 | (281) 847-4455 |
| Clay & Clay Funeral Home | 3101 Lyons Ave Houston, TX. 77020 | (713) 227-0714 |
| Community Chapel Funeral Home | 808 Schweikhardt St Houston, TX. 77020 | (713) 672-6397 |
| Compean Funeral Home | 2102 Broadway St Houston, TX. 77012 | (713) 924-6900 |
| Cremation Society Of Texas & Miller Funeral | 7723 Beechnut At Hwy 59 S Houston, TX. 77074 | (713) 988-4501 |
| Crespo Funeral Home | 4136 Broadway St Houston, TX. 77087 | (713) 644-3831 |
| Cristo Ray Funeral Home | 235 N Sampson St Houston, TX. 77003 | (713) 237-1777 |
| Cristo Rey Funeral Home | 235 N Sampson Houston, TX. 77003 | (713) 477-4777 |
| Cy Fair Northwest Funeral Home | 9926 Jones Rd Houston, TX. 77065 | (281) 897-9823 |
| Duncan Funeral Home | 5806 Settegast Rd Houston, TX. 77028 | (713) 672-8782 |
| Earthman Resthaven Funeral Home | 13102 North Fwy Houston, TX. 77060 | (281) 443-0063 |
| Esperanza Family Funeral Home | 6750 Lyons Ave Houston, TX. 77020 | (713) 670-9600 |
| Eternal Rest Funeral Home | 4610 S Wayside Dr Houston, TX. 77087 | (713) 644-1166 |
| Forest Lawn Funeral Home | 8706 Almeda Genoa Rd Houston, TX. 77075 | (713) 991-9000 |
| Forest Park Lawndale Funeral Home | 6900 Lawndale St Houston, TX. 77023 | (713) 928-5141 |
| Forest Park Westheimer Funeral Home | 12800 Westheimer Rd Houston, TX. 77077 | (281) 497-2330 |
| Frazier & Mitchell Funeral Home | 5002 Hershe St Houston, TX. 77020 | (713) 673-3672 |
| Grimes Funeral Home | 3900 Holmes Road Houston, TX. 77051 | (713) 733-3336 |
| Hardin Family Funeral Home | 9034 Long Point Rd Houston, TX. 77055 | (713) 464-1910 |
| Heights Funeral Home | 1317 Heights Blvd Houston, TX. 77008 | (713) 862-8844 |
| Hilliard Funeral Home | 2412 Little York Rd Houston, TX. 77093 | (713) 697-0063 |
| Houston Burial Vault | 6904 Weyburn Houston, TX. 77016 | (281) 413-7012 |
| Houston National Cemetery | 10410 Veterans Memorial Houston, TX. 77038 | (281) 447-8686 |
| Johsnson Funeral Home | 5730 Calhoun Road Houston, TX. 77021 | (713) 747-9604 |
| Kashmere Gardens Funeral Home | 5001 Kelley St Houston, TX. 77026 | (713) 633-3809 |
| Klein Cy-Fair Funeral Home | 9719 Wortham Houston, TX. 77065 | (832) 678-3900 |
| La Paz Funeral Home | 3515 Crawford Street Houston, TX. 77004 | (713) 526-5558 |
| Lang Funeral Home | 4304 La Branch Street Houston, TX. 77004 | (713) 523-5264 |
| Leal Funeral Chapel | 2200 Wilcrest Drive Houston, TX. 77042 | (713) 532-6939 |
| Lewis & Sons Funeral | 1010 Bering Dr Houston, TX. 77057 | (713) 789-3005 |
| Lockwood Funeral Home Inc | 9402 Lockwood Dr Houston, TX. 77016 | (713) 633-1421 |
| Mabrie Memorial Mortuary | 5000 Almeda Rd Houston, TX. 77004 | (713) 942-7673 |
| Mc Coy & Harrison Funeral Home | 4918 Martin Luther King Jr Houston, TX. 77021 | (713) 659-7618 |
| Mc Duffy's Funeral Home | 115 W Hamilton St Houston, TX. 77076 | (713) 695-8400 |
| Memorial Oaks Funeral Home | 13001 Katy Fwy Houston, TX. 77079 | (281) 920-2966 |
| Mid Town Mortuary & Cremation | 2222 Dowling St Houston, TX. 77003 | (713) 651-3119 |
| Miller Funeral Home | 7723 Beechnut St Houston, TX. 77074 | (713) 981-1184 |
| Morales Funeral Home | 2901 Canal St Houston, TX. 77003 | (713) 223-1167 |
| Mystro Funeral Media | 2626 S Loop W Houston, TX. 77054 | (713) 349-0300 |
| Niday Funeral Homes | 12440 Beamer Rd Houston, TX. 77089 | (281) 464-7200 |
| Oscar Johnson Jr Mortuary | 415 Berry Rd Houston, TX. 77022 | (713) 695-3313 |
| Pat H. Foley Funeral Home | 1200 W 34th St Houston, TX. 77018 | (713) 869-6261 |
| Pruitt Mortuary | 7518 N Main St Houston, TX. 77022 | (713) 864-2609 |
| Pryority Funeral Experience | 12025 Bammel N Houston, TX. 77066 | (281) 686-2009 |
| Richardson Mortuary | 3201 Brookfield Dr. Houston, TX. 77045 | (713) 523-4992 |
| Ross Mortuary | 3618 Lyons Ave Houston, TX. 77020 | (713) 223-8071 |
| Ruffin Funeral Home | 6911 Winton St Houston, TX. 77021 | (713) 747-1111 |
| Sacred Hope Funeral Home | 1505 Jensen Dr Houston, TX. 77020 | (713) 223-3707 |
| San Jacinto Funeral Home | 14659 East Fwy Houston, TX. 77015 | (713) 453-7114 |
| Santana Funeral Directors Funeral Home | 401 Ssgt Macario Garcia Dr Houston, TX. 77011 | (713) 921-3000 |
| Santana Funeral Home | 5253 Katy Freeway Houston, TX. 77223 | (713) 880-2828 |
| Serenity Funeral Home | 8619 Windswept Ln Houston, TX. 77063 | (713) 789-6448 |
| Settegast-Kopf Funeral Home | 3320 Kirby Dr Houston, TX. 77098 | (713) 526-2411 |
| St Matthew's Mortuary | 12317 Garrett Rd Houston, TX. 77044 | (281) 458-4860 |
| Stripling Funeral Svc | 3902 Lockwood Dr Houston, TX. 77026 | (713) 674-1023 |
| Sunnyside Funeral Home | 5645 Reed Rd Houston, TX. 77033 | (713) 738-9180 |
| Sunset Funeral Home | 4337 Liberty Rd Houston, TX. 77026 | (713) 673-3700 |
| Trevino & Sons Funeral Home | 3911 Fulton St Houston, TX. 77009 | (713) 697-1779 |
| Universal Funeral Home Inc | 8011 W Montgomery Rd Houston, TX. 77088 | (281) 820-2391 |
| Vazquez Funeral Home | 8009 1/2 Long Point Road Houston, TX. 77055 | (713) 468-2524 |
| Waddell's Chapel | 6938 Westover St Houston, TX. 77087 | (713) 640-2100 |
| Waltrip Funeral Directors | 1415 Campbell Rd Houston, TX. 77055 | (713) 465-2525 |
| Wiley Funeral Home | 1290 Pinemont Dr Houston, TX. 77018 | (713) 681-7475 |
| Woodforest Funeral Home | 750 Uvalde Rd Houston, TX. 77015 | (713) 453-1900 |
| Woodlawn Funeral Home | 1101 Antoine Dr Houston, TX. 77055 | (713) 682-3663 |
| Woodlawn Funeral Home | 8010 Katy Freeway Frontage Road Houston, TX. 77024 | (713) 682-0517 |
| Airline Mortuary Assoc | 1331 S Houston Ave Humble, TX. 77338 | (281) 540-4141 |
| Calvary Hill Funeral Home | 21723 Aldine Westfield Rd Humble, TX. 77338 | (281) 443-3340 |
| Fall Creek Memorial Chapel And Funeral Home | 14434 Old Humble Road Humble, TX. 77396 | (281) 441-3255 |
| Humble Funeral Home | 1008 Wilson Rd Humble, TX. 77338 | (281) 446-2138 |
| Rosewood Funeral Home | 2606 Old Humble Rd Humble, TX. 77396 | (281) 441-2171 |